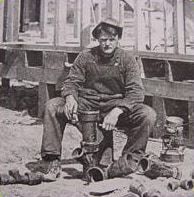 A History of Family and Hard Work
In 1911 Andy Thorsen Sr. started his plumbing business as a one man shop in a shed attached to his first home on 567 High Street in Turlock, CA. In 1916 Andy relocated to 214 Lander Avenue with the sign "Andy Thorsen The Plumber".
In the early days, his work mainly consisted of simple plumbing with water storage tanks and wind driven pumps. As the demand for modern indoor plumbing increased, Andy's business grew, and in 1933 Andy Thorsen the Plumber moved to 134 Lander Avenue to a larger facility.
As post war construction boomed across the nation, Thorsen's grew with the continued increase in new homes and business construction.
During the 1950's, as air conditioning began growing in popularity within the central valley, Thorsen's responded by expanding their services to include central air conditioning and heating. Andy Thorsen's oldest son Rodney took over managing the business in 1965.
AC Replacement

∴

AC Installation

∴

AC Maintenance

Thorsen's experienced its greatest expansion during the 1960's and 1970's and in 1977 Rodney Thorsen built a 19,500 sq. ft. building at 2310 North Walnut Road.

Rodney Thorsen managed the company for the next 20 years and in 1984, his youngest son Norman graduated from college and returned to Turlock to take over the reins of the company. In 1988 Norman was involved in a serious automobile accident that forced Rodney to take over managing the company again. Over the next 14 years, Norman was able to help Rodney manage Thorsen's Plumbing, Heat and Air on a limited basis. Through the skill and devotion of key long-term employees in the office and the field, the company was able to remain competitive. In 2002, Craig Pitau – a lifelong friend of Norman Thorsen purchased ownership shares in Thorsen's Inc. and worked with Norman as the General Manager. In 2007, Craig became the CEO and in 2012, became the sole owner.

In 2014, Craig worked with Tom and Dick Norquist to acquire Tenney A. Norquist Heat and Air and merged the two companies. Since Thorsen's was well established in the Turlock area, (Since 1911) and Tenney A. Norquist was well established in the Modesto area, (Since 1957) a new company was formed. Thorsen's-Norquist, Inc.

AC Replacement

∴

AC Repair

∴

Plumber

In 2014 Joshua graduated from college and began training to take over the business. However, in December 2022 Joshua and his wife Elicia made the decision to move their family to Idaho.

After graduating from college, Jarrett worked as an HVAC Service Technician for seven years and then was promoted to General Manager in December 2022.

We continue to be a locally owned, family business and we truly appreciate serving our community.
Plumber, AC Repair & Plumbing Service

Oakdale, CA, Turlock, CA & Riverbank, CA
AC Replacement & Air Conditioning Service in Turlock, CA
AC Replacement

∴

Plumbing Service

∴

Plumbing Repair